St Columba's gets a big green tick for steam cleaning our bay
Posted on 28 May 2021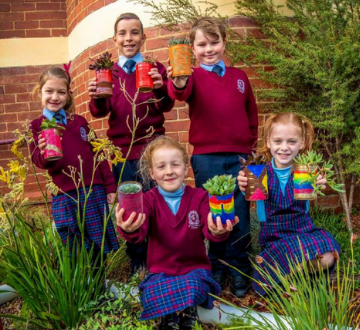 St Columba's recently received the big green tick of approval for completing its successful Operation STEAM Clean the Bay three-year project and associated reporting.

The school won over $75,000 in grant funding back in 2017 for our detailed grant application - developed through the hard work and dedication of our Green Team parents and the Port Phillip Eco Centre.

In line with the Fund's focus, the project went about successfully transforming our landscape, curriculum and leadership projects - making people think about and connect the health of the Bay to everyday decisions and ultimately improve Bay health.

Highlights over the last 3 years included:
redesigning the school's front-facing landscape (rain garden, erosion-proofing, drought-proofed gardens, stormwater management) to reduce and address Bay's health threats
our students learning and sharing Indigenous historical and scientific knowledge of our bayside ecosystems with the Boon Wurrung Foundation, Port Phillip EcoCentre, and guest career speakers from Bay related fields of Science, Technology, Engineering, Arts and Math
conducting a range of community engagement activities including signage, artwork, community cleanup days, a fabulous Climate Change Choir - that increase awareness of the Bay's environmental health and value.
The Department of Environment, Land, Water and Planning accepted our final report, stating: "We appreciate the work you have undertaken, including the community engagement and knowledge sharing activities, such as the rain garden and revegetation work. We wish to take this opportunity to thank you for your contributions to protecting the health of Port Phillip Bay."

Well done to the Eco Warriors, Steph Young, the parent Green Team, the Port Phillip Eco Centre and the school community you should be very proud of our many hours of hard work and the many well-deserved eco achievements over the life of the project. This project has helped create positive behaviour change in our children, our school families and our community and will continue to have a lasting effect on our everyday environmental actions.