St Columba's awarded a 2021 Woolworths Junior Landcare Grant
Posted on 16 June 2021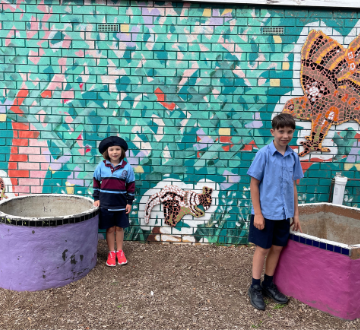 St Columba's has been buzzing with excitement after being notified that we've been awarded a 2021 Woolworths Junior Landcare Grant for our project: Pollen, plants and paintbrushes.

The aim of our project is to establish garden beds next to our art room enhancing our native habitat, supporting native insects (including native bees), providing interesting flora and fauna subjects for art projects and delivering environmental educational opportunities for our students.

The school will receive a total of $1,500 in funding to complete the project, including a $500 "bee bonus" for encouraging bees and other pollinators through our initiative.

In implementing the project, our Year 3/4 Eco Warriors will be involved in a range of environmental education activities including:
exploring the importance of indigenous and native plants for native wildlife;
observing local wildlife through play based learning;
designing the new garden beds;
learning about native bee species and pollinators;
learning how to plant and care for native flora and fauna;
observing biodiversity impacts, conducting annual biodiversity audits and comparing against established baselines; and
learning about sustainability in an authentic outdoor learning space.
The project includes an incursion led by our local indigenous nursery, Bili, on native pollinators highlighting the bee species found in Elwood, the habitat they need for survival and tips on how to encourage them into the garden.
Native Bee Scientist and PhD researcher at Curtin University, Kit Prendergast, is also a highlight of the project. Her incursion looks at the exciting STEM career options working with bees and how to safely observe pollinators in their native habitats.

"We are thrilled to have been successful in our grant application and the students are really looking forward to bringing Pollen, plants and paintbrushes to life," said Steph Young, St Columba's Sustainability Officer.

"Our bee loving parent Green Team came up with the inspiration for the grant and will generously be providing horticultural advice and labour to establish the garden bed. We're very grateful for their continued support."

St Columba's is one of 1,609 primary schools and early learning centres throughout Australia receiving a Woolworths Junior Landcare grant to help grow our next generation of environmental champions.

The grants are being funded with a 10c contribution from each sale of the Woolworths Bag for Good at full price, which was launched in 2018 when Woolworths went single-use plastic bag free.

Click on the Woolworths Junior Landcare Grant map to read about our project and others.