St Columba's shines at Resource Smart School Awards
Posted on 13 June 2019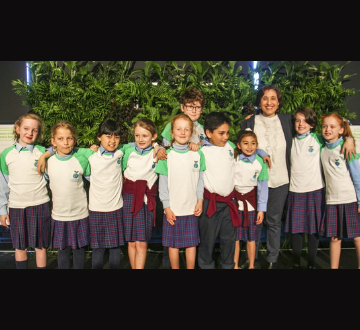 Ten members of our Climate Change Choir and three sustainability leaders from our school traveled to the MCG on Thursday to represent St Columba's at the Resource Smart School Awards.

St Columba's was a finalist in the top awards - the Resource Smart School of the Year - and, although we didn't take home the award on the day, it was an amazing achievement for our small school!

Prior to the awards being announced, our Climate Change Choir and Chris were the official Awards entertainment and hit the stage to perform their new song ""Port Phillip Bay".

The Eco Warriors wrote the song as part of the STEAM Clean the Bay program. The program - generously funded with the support of the Victorian Government - aims to ultimately improve the environmental health of Port Phillip Bay. One of the ways it does this is by increasing community awareness of the environmental health and value of the Bay ...and in this case, through song!

The choir looked fabulous in their Climate Change Choir t shirts and the weeks of dedicated practice with Chris paid off, with the audience all clapping along and joining in on the catchy eco tune!

The awards ceremony was hosted by Craig Reucassel, from ABC TV, War on Waste, and he joined Lily DâAmbrosio, Minister for Energy, Environment and Climate Change, congratulating all the schools involved for 'contributing to a better place the theme for this year's awards.

St Columba's was one of a handful of schools showcasing their sustainability work with a presentation table. The Climate Change Choir and sustainability leaders manned the table and all actively shared details of the work that our school is doing to reach and maintain our 5-star sustainability rating - including being interviewed by Craig Reucassel! The ResourceSmart Schools Awards are Victoria's largest sustainability awards program recognising schools leading the way in minimising waste, saving energy and water, increasing biodiversity and tackling climate change.Congratulations to all the amazing winners of this year's ResourceSmart Schools awards. We are honoured to join you as a finalist at the awards, thrilled to be able to share our sustainability story and have learnt so much in the process

A big thanks to Steph, Chantel, Chris, the Eco Warriors, the Green Team parents and the Port Phillip Eco Centre for helping us make it to the finals and shine on the day!