No Waste Wednesday Composting Warriors
Posted on 8 November 2019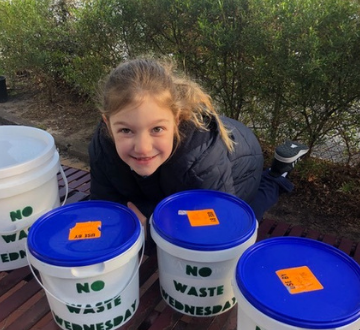 An awesome effort to all the families participating in 'No Waste Wednesday's' and to Anna, Susan and Laura for helping our school families and teachers reduce their organics waste one bucket at a time!
This week we collected 68.27kg of food scraps from 28 families. This brings our total food waste diverted from landfill to almost 700kg in 3 months. We emptied our first bin of beautiful compost onto our gardens last week and can't wait to see our trees and plants flourish.
Just a reminder that we can compost all of your fruit and veg scraps, coffee grounds and egg shells, but please no meat, dairy or fish as these tend to attract pests. The smaller you cut up your food scraps, the quicker it will turn into compost for our garden, so if you have some bigger pieces of fruit or veggies it would be helpful to chop them into smaller pieces.
If you would like to volunteer to help out on Wednesday morning's collecting and weighing food scraps and turning compost bins, please contact Miss Young as we are always happy for extra helpers!
Keep up the amazing work team!