MarketFresh Incursion
Posted on 26 February 2021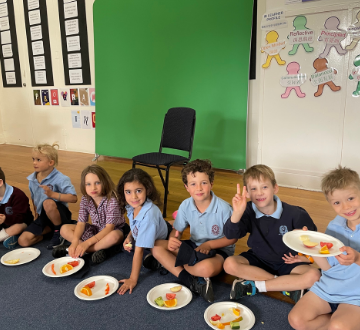 The Prep to 2s had so much fun participating in a MarketFresh Incursion on Friday 26th February. They learnt all about where fruit and where vegetables come from, how these are harvested and transported and how they eventually get to supermarkets and markets to be sold. They tasted fresh vegetables and fruit and got to take home a fun activity booklet with healthy recipes and games to use at home. It was a fun afternoon.
Facts about The MarketFresh Schools:
The MarketFresh Schools Program is designed to teach students about the importance of eating fresh fruits and vegetables every day as part of a healthy balanced diet.
This popular program educates over 15,000 students annually about:
Nutrition of fruit and vegetables
how fresh fruits and vegetables are grown, harvested and an overview of the supply chain in the Australian fresh produce industry
Tastes and textures of fruit and vegetables with students encouraged to taste test fresh produce.
For more information visit: http://www.marketfresh.com.au/marketfresh-schools