Keep Victoria Beautiful judge comes to St Columba's!
Posted on 11 May 2019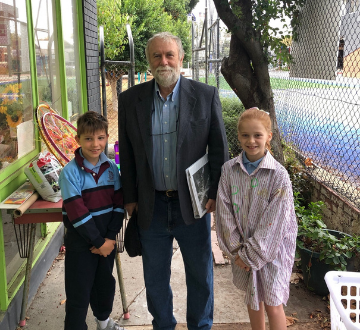 On Thursday we rolled out the green carpet and welcomed the Keep Victoria Beautiful judge to assess our entry into the 2019 Sustainable Cities Awards.
We entered the Awards last term for our exciting STEAM Clean the Bay Project - a project generously funded with the support of a Victorian Government grant. Here's a snippet from the Award's application:
Operation STEAM Clean the Bay (Science, Tech, Engineering, Arts, Maths) aims to transform our landscape, curriculum and leadership projects - making people think about and connect the health of the Bay to everyday decisions - ultimately improving Bay health.
St Columba's Primary School - a ResourceSmart School committed to advancing our community wide sustainability leadership - is located in the seaside suburb of Elwood and created the project to improve the environmental health of Port Phillip Bay. Activities include:
redesigning frontfacing landscape (rain garden, erosionproofing, drought-proofed gardens, stormwater management) to reduce Bay's health threats
learning/sharing Indigenous historical and scientific knowledge of our Bayside ecosystems with the Boon Wurrung Foundation, Port Phillip EcoCentre, and guest career speakers from Bay related fields of Science, Technology, Engineering, Arts and Math
conducting community engagement activities - including signage, community cleanup days, Climate Change Choir - that increase awareness of the Bay's environmental health/value.
David, the judge, received a presentation of our work and then went on a tour of the school meeting Ben and Heidi, two of our 3/4 Eco Warriors, on the way!
Keep your fingers and toes crossed for the Awards!