Climate Change Choir in the Leader Newspaper
Posted on 11 June 2019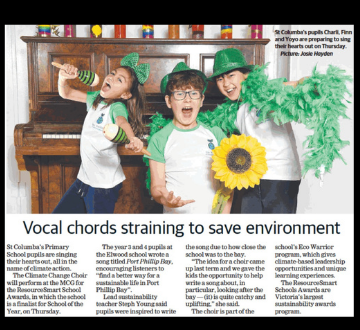 A few members from our highly sought after Climate Change Choir, were photographed in the Leader Newspaper this week. The Climate Change choir has been performing at many Sustainability events this year, singing about the need to care for the Port Phillip Bay.

Three of our Climate Change Choir stars - Charli, Finn and Yoyo - are starring in this week's Leader Newspaper!<

The article has run in the lead up to this week's Resource Smart School Awards. The Choir will be heading to the bright lights of the MCG on Thursday and performing their climate change song to all of the schools and teachers attending.

The Eco Warriors wrote the song as part of the STEAM Clean the Bay program. The program - generously funded with the support of the Victorian Government - aims to ultimately improve the environmental health of Port Phillip Bay. One of the ways it does this is by increasing community awareness of the environmental health and value of the Bay ...and in this case, through song!

The song is titled Port Phillip Bayand encourages listeners to ""find a better way for a sustainable life in Port Phillip Bay.

Following their big launch at the MCG event, the Choir will be hitting local kinders and events to spread the catchy eco tune far and wide!

Break a leg on Thursday, eco warriors! We are all very proud of you!