1,000 plants for the planet
Posted on 3 August 2018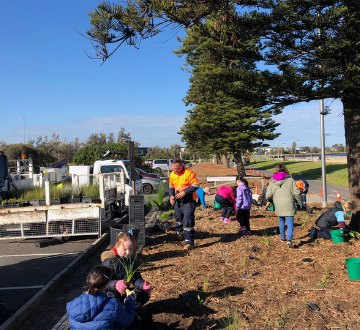 On Friday our Years 3-6 students ventured out into the stunning sunshine and down to Elwood foreshore to take part in Schools National Tree Day.

The students were guided by April and Karen from the Port Phillip Eco Centre together with Damien and members of the CityWide team as they got to work planting locally indigenous tubestock.

The aim was to plant 250 trees to encourage and support Point Ormond bird species. By the end of the session we had planted an impressive 1,000 trees!

During the day we also learnt about our local Indigenous culture. David Johnstone from the Boon Wurrung Foundation delivered four fascinating Indigenous Perspective sessions for the students. Dave is an archaeologist and also spoke about his job and how he works with the Bay.

This day was supported by CoastCare Victoria as part of our initiative: 'St Columba's Caring for our Coast', as well as the Victorian Government's Port Phillip Bay Fund and CityWide.
A very big thank you to our fabulous parent Green Team and Port Phillip Eco Centre who not only won the $3,600 CoastCare grant to put towards the costs of the day, but also worked with Ms Munoz to organize the logistics and walk the students there and back. Thanks also to Judy Forsyth who helped out with the walking bus on the day.
All in all, the day got the big green thumbs up from everyone that took part!
On 29th of July Grade 3 to 6s went to Elwood's foreshore. We went with our classes in groups. One group involved planting trees along the garden strip and in the other we were learning about the aboriginals who lived in port Phillip bay and what they did during the different seasons. For example, during winter they would move inland for more resources. - Angelina

We went to the Elwood beach last Friday. We got to learn about the local Aboriginal people and after that we went to plant the trees. We planted about 200 trees in the hour we got. We learnt that where the water is now there used to be a cliff. - Maya

On tree planting day we planted all types of trees. We planted 1000 trees and the types of trees we planted were saltbush, succulents and grass. They are all native plants. We had to put gel so the plants will have water. - Eva